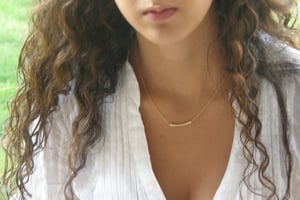 $

36.00
The Golden Bar...or ... it is the thin things, sometimes the little simple necklaces turn to be my very favorite necklace,and i am so happy to share this necklace with YOU.
Very Elegant and Delicate Necklace and i love it.
The golden bar is about 1". gold filled little curve as you see in the photos.
The golden bar is on a very delicate gold filled
on gold filled delicate 16" chain.
:ALL MY JEWELRY IS READY TO GIVE AS A GIFT:
MADE WITH LOVE,
SimaGilady